One of the most sought after accessories for men today, bracelets are a versatile and sexy accessory for any casual or formal outfit. They can be worn alone or several bracelets can be stacked to improve your style and complete your outfit. So how do you know which style of bracelet is best for you? That's exactly what we're here to tell you. Below we will introduce you to a few of the most popular bracelets on our website this year, and describe the benefits and common uses of each one.
Chain Bracelets
Chain bracelets are one of the most popular types of bracelets for men. Its firm and masculine appearance makes many men identify it as giving them the masculinity they are looking for and it looks very cool. Its unique appearance is determined by the material, and chain bracelets are usually made of stainless steel and 925 silver. The stainless steel Cuban chain bracelet, for example, is an accessory with a long life because it is not susceptible to wear and oxidation because of the material. Chain bracelets are generally not suitable to be worn with other types of bracelets or watches. It is also great to wear just a steel colored chain bracelet to make you look simple and stylish.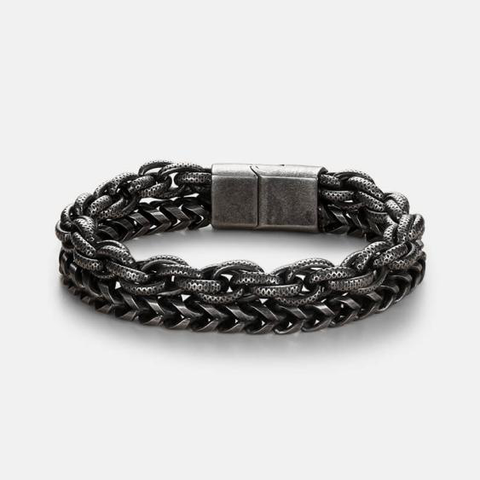 If you are planning to use a certain bracelet for some time, a chain bracelet will be the right choice for you. After all, its durability is definitely their most attractive quality. This is a more classic and creative chain bracelet. Classic in that it is made of stainless steel, simple and stylish; and creative in that it is made of double-layered chains, with different types of chains, making it look more layered.
Beaded Bracelets
Beaded bracelets are one of the most common types of bracelets and people usually like it because it is stretchy and they don't have to struggle to choose the length. It usually consists of a stretchy cord and a combination of beads of different materials. There are many choices of materials and shapes of beads. For men, a round natural stone (volcanic stone, obsidian, etc.) bead bracelet is a perfect choice. It can be worn not only with loose summer T-shirts, but also with suits for formal occasions. In addition, beaded bracelets of different colors can be easily combined together to produce a perfect stacking effect.
If you have a hard time choosing a bracelet length and want a versatile bracelet, then a beaded bracelet is a great choice.
Leather Bracelets
If you are committed to a vintage feel or punk style, then leather bracelets with different small embellishments will please you. Leather bracelets are usually available in neutral tone colors like black and brown to add stylish details to an outfit. It, like beaded bracelets, can be worn with other types of bracelets without feeling clashing and out of place. Leather bracelets are very gentle on the wrist and very comfortable to wear due to the specificity of the material. It is not as durable as a chain bracelet, but it can be worn for years with careful use.
This leather bracelet is one of the more popular ones in our store lately, and one of the more appealing things about it is that it is a versatile bracelet. When it is used as a bracelet, it is vintage and layered; in fact, it can also be used as a belt to match your outfit or to hold your pants in place.
Magnetic Bracelets
In the past few years, with the development and advancement of social media, magnetic therapy bracelets have become widely known and popular. Although there is no scientific evidence to explain the effects of magnetic therapy bracelets on the human body, there are always people who claim to have been more active and productive in their lives after wearing magnetic therapy bracelets for a period of time.
Aside from its attractive claimed effectiveness, it can also be a cool stainless steel chain bracelet that can also complete your everyday wear.
Final Words
Different styles and materials of bracelets have different charms, so it is much easier to determine your needs and basic requirements before buying. Our website offers a variety of bracelets in different materials and types, so we hope you can choose the one you are satisfied with!